Congratulations to the 2020 selected Mentor Fellows
The Mentor Fellows internship program is an activity of the Mentor-Connect: Leadership Development and Outreach for ATE-2 project (DUE #1501183).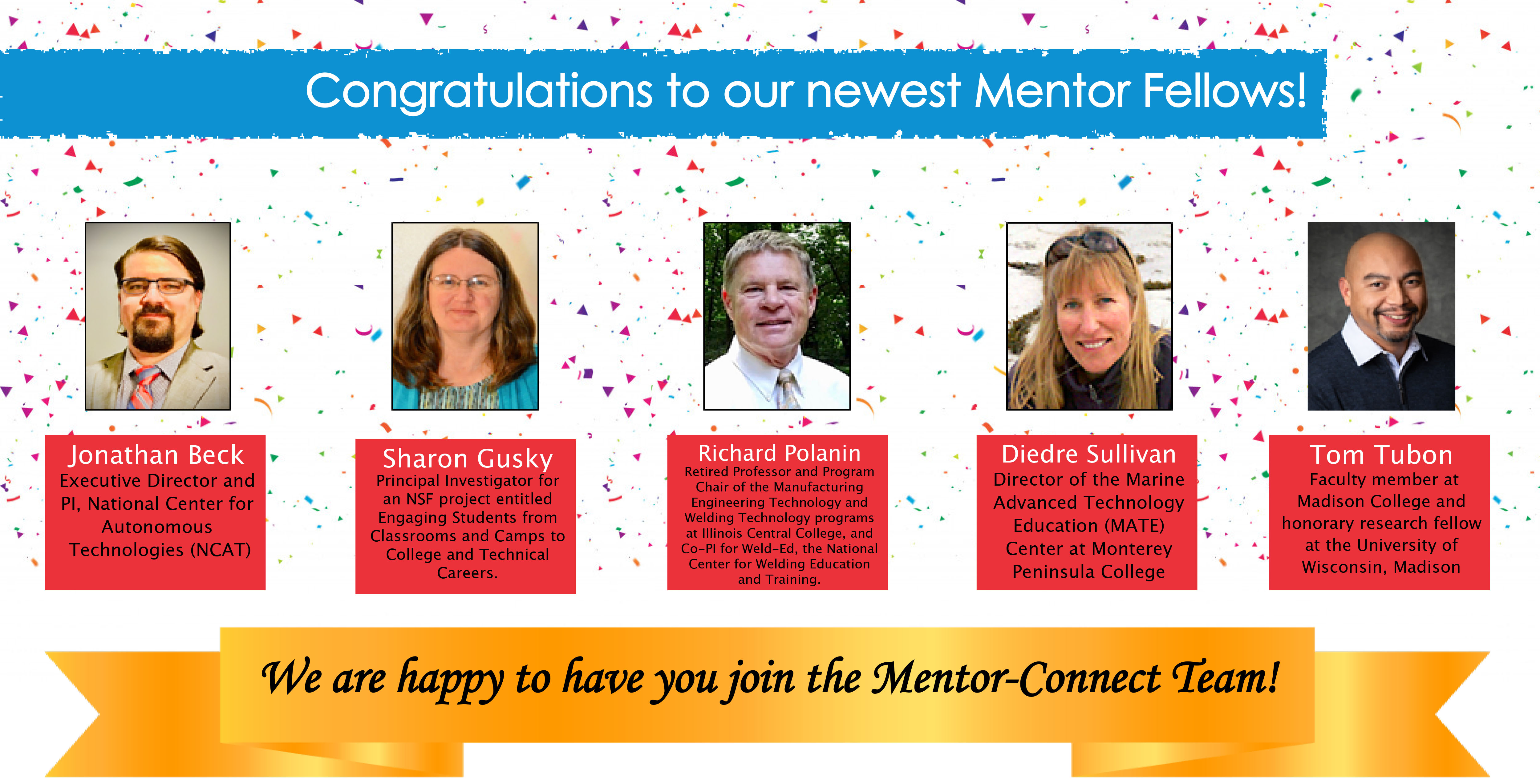 Jonathan Beck. Executive Director and PI, National Center for Autonomous Technologies (NCAT). I've worked in the Aerospace and Autonomous technology industries for 18 years. My career has involved creating unmanned aircraft system programs across state and federal organizations and higher education. In 2011, Northland Community and Technical College in Thief River Falls, MN launched the nation's first UAS maintenance program. Over the past 8 years I have served on the leadership team at Northland, which has raised over $37 million in advancing autonomous technology education. I have led four NSF ATE awards as a Principal Investigator, working with a dedicated team to create professional development workshops, STEM engagement opportunities, educational pathways, industry partnerships and expanded educational resources in autonomous technologies.
Sharon Gusky. Principal Investigator for an NSF project entitled Engaging Students from Classrooms and Camps to College and Technical Careers. I am a professor of Biology at Northwestern Connecticut Community College where I have been teaching since 1998. I am a member of Mentor Connect's first cohort of mentees and was awarded a New to ATE NSF grant to start a manufacturing program in 2014. I have served as a community college liaison for the EvaluATE Center and am a member of the National ATE Principal Investigators' Conference Steering Committee. I am very active in Biology Education reform and currently serve as president of the National Association of Biology Teachers.
Richard Polanin. Retired Professor and Program Chair of the Manufacturing Engineering Technology and Welding Technology programs at Illinois Central College, and Co-PI for Weld-Ed, the National Center for Welding Education and Training. I am also the PI for a Weld-Ed project in collaboration with the ASNT to identify NDT student learning outcomes. I hold Bachelor's and Master's degrees from Illinois State University and a Doctorate from the University of Illinois. I am a consultant in manufacturing engineering and welding engineering and inspection. I publish and provide presentations in the areas of manufacturing, robotics, and welding. I am a graduate of the Illinois Scholars program and a Certified Manufacturing Engineer and Certified Welding Inspector.
Diedre Sullivan. Director of the Marine Advanced Technology Education (MATE) Center at Monterey Peninsula College. I have been with the organization since its inception (1997). I conduct workforce studies, develop curricula and guidelines for marine occupations, and lead workshops. As a college educator for 25 years, I have taught courses in Earth & marine science, GIS, and marine technology. Prior to this I worked as a marine geologist, ran a marine science camp, and owned an underwater video company. I received a lifetime achievement award in GIS education from the GeoTech Center and was inducted into the Women Diver's Hall of Fame in 2014. I currently sit on the Monterey County Water Resources Agency's Board of Directors.
Tom Tubon. Faculty member at Madis on College and honorary research fellow at the University of Wisconsin, Madison. I teach Biotechnology courses in the Applied Associates Degree Biotechnology Program and the Post-Baccalaureate Certificate Program as well as Human Stem Cell Technologies courses. I have been involved with NSF ATE since 2009 and currently serve as the Principal Investigator for the ATE initiative for developing workforce-centered programming in Emerging Technologies to steer the development of a National Coordination Network for Cell and Tissue Manufacturing. I also have leadership roles in the NSF Engineering Research Center for Cell Manufacturing (CMaT), the NSF OIA National Center for Advancing Research Impact in Society (ARIS), and the NSF ATE National InnovATEBIO Center for Biotechnology.