Lively Discussions at Synergy Session Launch HSI ATE Hub
Lively discussions and expressions of excitement about new resources to address the students' needs at Hispanic-Serving Institutions (HSIs) filled the room at the Synergy Session on HSI Strategies and Challenges at the 2018 ATE PI Conference.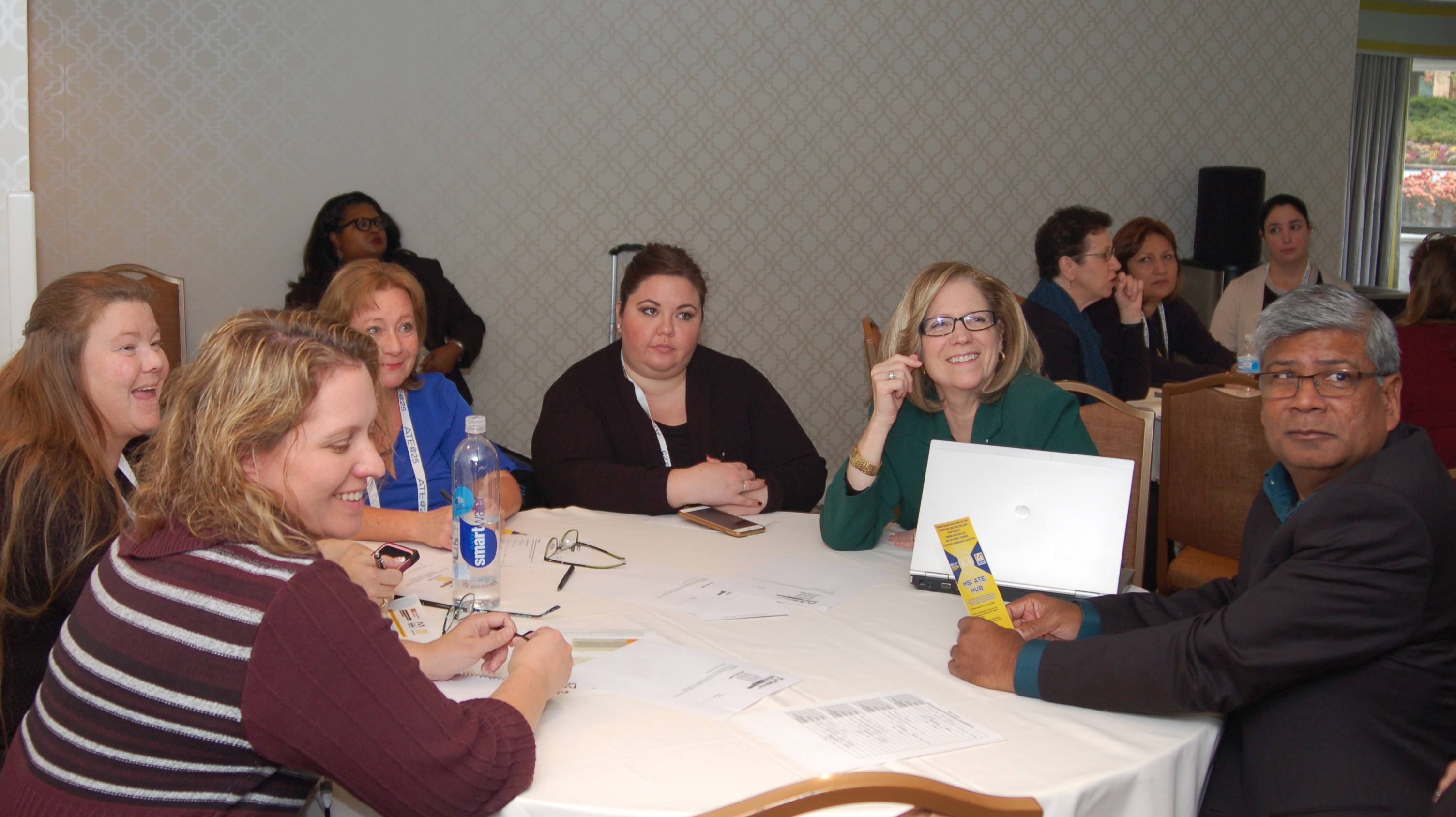 Washington, D.C. (January, 2019) – Lively discussions and expressions of excitement about new resources to address the students' needs at Hispanic-Serving Institutions (HSIs) filled the room at the Synergy Session on HSI Strategies and Challenges at the 2018 Advanced Technological Education (ATE) Principal Investigators Conference.
The session to explore opportunities and share promising practices among the HSIs within the ATE program was the first formal convening of the HSI ATE Hub, a recently funded ATE project co-led by Mentor-Connect and Science Foundation Arizona HSI KickStarter. (DUE# 1800678 and DUE# 1800615.)
These initiatives support community and technical colleges in learning about funding opportunities in relevant STEM programs at the National Science Foundation (NSF), and mentor institutional teams (faculty and administrators) in developing their project ideas, crafting a proposal, and submitting to the program of interest. To date, the two programs have collectively served 45 HSIs in nine states, with student enrollments ranging from 400 to 40,000 and Hispanic enrollment percentages ranging from 27% to 97%.
The HSI ATE Hub project's mission is to improve STEM and technician education programs at community college HSIs; increase the capacity of HSIs to obtain NSF grants; grow the HSI ATE community; and enable leadership and scholarship among the STEM faculty at HSIs.
As the project increases the capacity of community college HSIs to develop competitive ATE grant proposals its leaders anticipate that technician education programs at these institutions will help drive economic development in the communities they serve.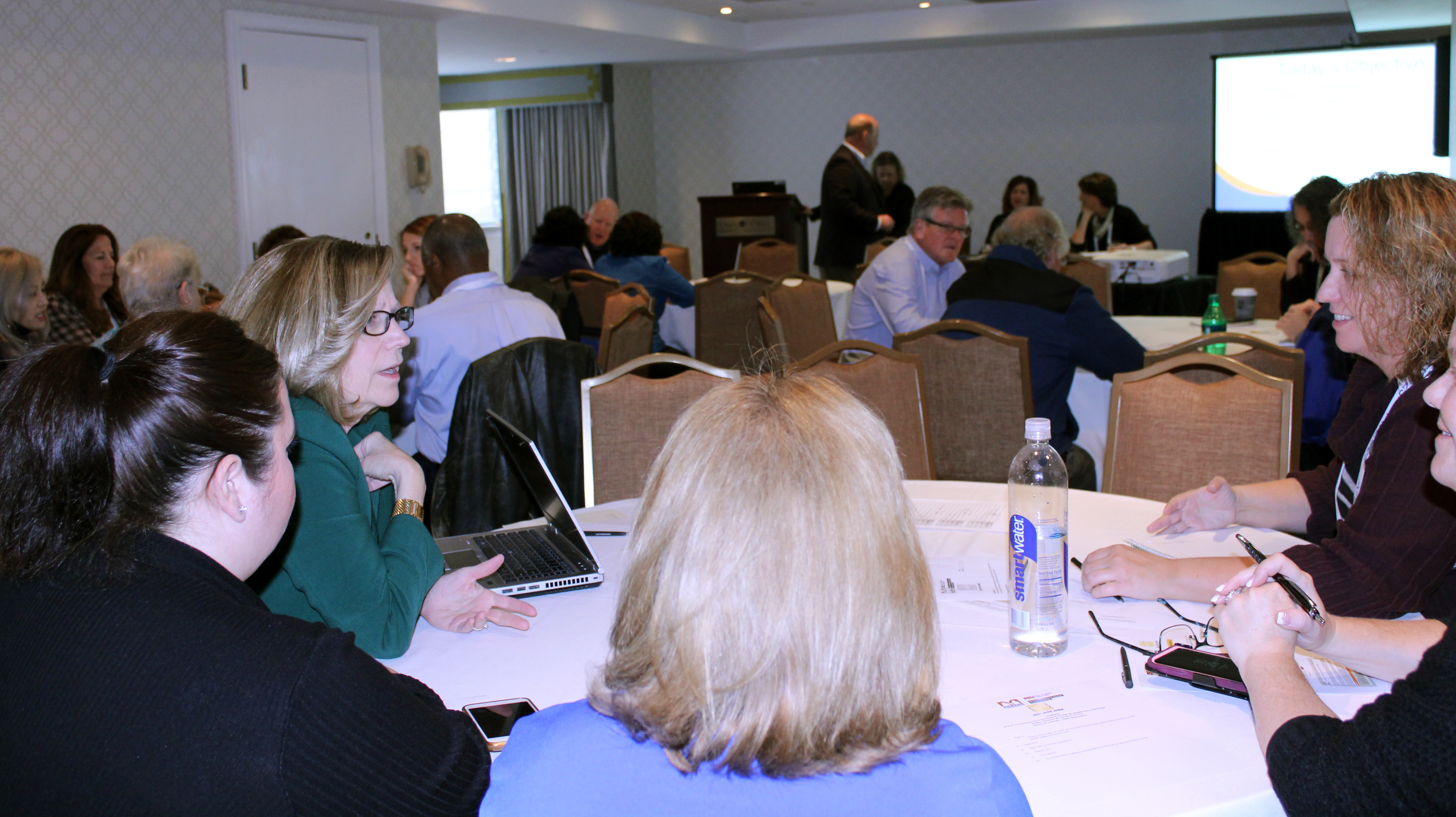 Approximately 25 people at the session engaged in small group discussions about the demographics of their colleges' students and faculty; the challenges that students at HSIs face and institutional responses to them; and resources that would address unmet needs.
Information about a new NSF initiative for HSIs and long-standing HSI programs at the U.S. Department of Agriculture and Department of Education elicited enthusiastic comments. As people around the tables learned that their institutions shared similar challenges despite their locations in disparate parts of the country and different-sized enrollments, participants shared more details about successes and impediments they had encountered in building STEM technician programs on their campuses.
The groups identified the following strategies for positive project outcomes:
Develop a sustainability plan in advance.
Bring relevant business and industry people onto advisory teams while planning an initiative.
Involve advisory board members in internships, mentoring and other experiential programs that introduce students to career paths.
Make sure students have financial aid in addition to Pell grants as well as non-academic support options.
A representative of Palo Alto College in Texas, emphasized that finding out students' needs and then providing academic and non-academic services to address them is also critical to their retention and perseverance in programs.
In a college survey Palo Alto students identified their challenges as food insecurity, housing and auto expense emergencies, and stress management. College leaders responded by creating an advocacy center with a food pantry and closet with business-attire clothing. It staffed the center with a mental health counselor and a case worker. The case worker helps students apply for low-cost loans or grants up to $300 for emergency expenses, and works with students to address issues that threaten to derail their academic plans. Additional information about what institutions can do to support students' success in STEM programs can be found here.
A representative of Norco College in California shared that workshops that inform guidance counselors about the growing opportunities in the STEM technical workforce are raising community awareness and boosting enrollment. She also reported that word-of-mouth endorsements from the parents and spouses of people who earned supply chain technician certificates during a Department of Labor program have helped student recruitment at the college.
The issue of STEM faculty members not reflecting the demographics of their student populations bubbled up in numerous discussions; it was cited by one group as a major problem. Building trust with students can alleviate racial, ethnic, and gender gaps, according to Selvum Pillay, professor and chairman of Materials Science and Engineering at the University of Alabama at Birmingham.
"You are not going to change the demographics of your faculty overnight, but what you can change is your [faculty's] cultural understanding of student populations. When you try to develop that and your faculty's understanding of that, you will have more success recruiting students irrespective of gender and race," he said.
Currently, the NSF is seeking proposals for its Improving Undergraduate STEM Education: Hispanic-Serving Institutions (HSI Program).The full solicitation (NSF 19-540) is at https://www.nsf.gov/pubs/2019/nsf19540/nsf19540.htm. Proposals are due March 6, 2019 and September 18, 2019. For additional information about this current HSI Funding Opportunity, click here.
About Mentor-Connect:
Mentor-Connect: A Leadership Development and Outreach Initiative for ATE is an initiative of the South Carolina Advanced Technological Education Center of Excellence (SCATE) at Florence-Darlington Technical College designed to engage more two-year technical and community colleges in the improvement of technician education. Mentor-Connect works in partnership with the American Association of Community Colleges (AACC) to help STEM faculty teams from participating institutions apply for grant funding from the National Science Foundation Advanced Technological Education program (NSF ATE). Mentor-Connect participants are assisted in developing grant-writing skills and leadership skills by mentors with many years of experience with NSF ATE funded projects. It is funded through NSF grant numbers 1204463 and 1501183.
About SCATE:
South Carolina Advanced Technological Education Center of Excellence (SCATE), a National ATE Center for Expanding Excellence in Technician Education since 1994, is a well established and widely connected NSF-funded initiative housed at Florence-Darlington Technical College. Its resources support the development of a highly skilled technician workforce in engineering, manufacturing, and industrial technologies via faculty development and mentoring, problem-based learning, research, evaluation, and student scholarships and internships. SCATE provides the nation's only online service that proactively connects educators to relevant professional development. For more information see SCATE websites: www.scate.org, https://www.teachingtechnicians.org/, http://www.mentor-connect.org/.
About Science Foundation Arizona:|
The Science Foundation Arizona (SFAz) Center for STEM at Arizona State University (ASU) provides services to Maximize the Educational and Economic Impact of STEM, particularly through working with faculty and students in community colleges – rural and Hispanic Serving. The SFAz Center for STEM provides the tools, resources, mentoring, and guidance to effectively assess STEM capabilities, develop STEM plans, and implement programs to support these plans. Formerly the STEM Education arm of Science Foundation Arizona, a 501(c)(3) non-profit, the SFAz Center for STEM operates out of the ASU Office of Knowledge Enterprise Development (OKED), and is located at ASU SkySong, ASU's Scottsdale Innovation Center and home to a diverse business community that links technology, research, education and entrepreneurship to position ASU and Greater Phoenix as global leaders in the knowledge economy. For more information see www.sfaz.org/kickstarter and stem.sfaz.org
###
[Photos: HSI Synergy Session]
[cutline]
During the Synergy Session on HSI Strategies and Challenges participants engaged in small group discussions about the challenges that students at HSIs face and how colleges are responding to them.